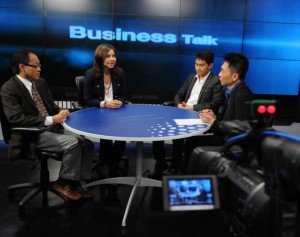 Different methodologies, different expectations
Three scenarios on the table in bidding for 24 new commercial channels
The National Broadcasting and Telecommunications Commission will invite bids for 24 new commercial digital TV channels in July. Supinya Klangnarong, an NBTC member, says she would like to see as many new content producers as possible in the industry.
"Since there are going to be 24 new commercial channels up for grabs, I hope there could be as many as 24 new operators," she said.
"One method [for the auction] is called 'cap-1′, meaning that each of the contenders is allowed to bid for only one content licence.
However, I guess I'm a loner on this proposal, as other commissioners have supported the proposal for a cap-3 method.
"In that scenario, each bidder is allowed to vie for up to three different content licences, since there will be three categories of content, namely general content or so-called variety channels; news channels; and children's channels.
"This method might result in eight operators for the 24 channels [if all eight groups each win three different content licences]. One major weakness is that small and medium-sized operators might not win any licence, as this method favours the big existing content providers.
"In between is the cap-2 method allowing bidders to vie for up to two licences so that there are more new players in the TV-content industry.
"There should also be a condition that each of the participants cannot bid for both general and news channels, but they may bid for one general or one news channel plus a children's channel, since kids' channels are as commercially attractive as the other two categories.
"Cap-2 also has the benefit of economies of scale, since studios, reporters and other resources could be shared to reduce cost.
"I would like to see new players in the business besides Channel 3, 5, 7, 9 or 11. If the existing major channels got the four HD [high definition] channels [available among the 24], they would have an advantage over the rest due to HD's higher quality."
Pramote Chokesirikulchai, executive adviser to the president of Bangkok Entertainment Co, operator of TV Channel 3, said: "It takes at least five years to break even in the TV-content business.
Super-channels
"In my opinion, if we have eight major content providers or super-channels as in the cap-3 method as favoured by some NBTC commissioners, that's a lot for a country like Thailand. The benefit is economy of scale.
"Small and medium-sized providers can also join these super-channels, since up to 40 per cent of their content can be outsourced.
"Thailand's overall advertising spending is about Bt110 billion annually. Of this amount, Bt60 billion to Bt70 billion is used in the TV media. In this business ratings are key, so I don't think the cake would be automatically shared by all the newcomers. It all depends on ratings and audiences. The existing major ones may have the advantages in terms of production expertise, ratings and trust among the audiences and advertising agencies.
"For example, Channel 3's strengths lie in entertainment, especially prime-time soap operas, which currently account for half of the station's annual revenue of about Bt20 billion. Another strength is the news programmes, which generate around 30 per cent of the station's revenue.
"In the old days, news programmes were much smaller in terms of revenue, while soaps were much bigger, so this reflects the changing viewers behaviour."
Dew Waratangtagoon, chief operating officer of platform and strategy at GMM Z Co, said: "Economy of scale is important, and we also need good ratings to generate enough revenue to survive.
"We have been in this business for 30 years, with expertise in music and other entertainment content. Over the past years, we've started several satellite TV channels.
"Overall advertising spending is unlikely to increase beyond the inflation rate of 5-6 per cent when we have the additional digital TV channels, so ratings will be crucial in determining the success or failure of content providers.
"GMM Group plans to bid for up to three licences if allowed to do so. We will bid for an HD channel as well as variety and news channels. I think the HD licences will cost more than Bt1 billion each."
Each licence is valid for 15 years.