Thai defamation laws allegedly used to muzzle activists and critics
Source: Thomson Reuters Foundation – Wed, 1 May 2013 04:59 PM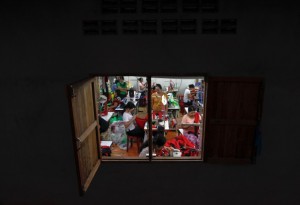 Workers from Myanmar's Mon state work at a small factory in Sangkhlaburi on the Thailand side of the border with Myanmar in this February 19, 2012 file photo.
http://www.trust.org/item/20130501165909-rldvm
BANGKOK (Thomson Reuters Foundation) – For the past decade, British labour activist Andy Hall has carved out a reputation for exposing the abuse and exploitation of Burmese migrant workers in Thailand.
Now his latest findings, published in January for a Finnish NGO, have pitted him against a businessman from a powerful political family.
Natural Fruit, which makes tinned pineapple and juice concentrate and is a major supplier to Europe, has sued Hall for defamation. He faces up to seven years in jail and a $10 million fine.
Such cases are common in Thailand, where severe criminal defamation laws are routinely used to muzzle, prosecute and jail rights activists, journalists and victims of abuse, rights and labour groups and academics say.
Human Rights Watch and trade unions have denounced Hall's case as the latest attempt by Thai companies and politicians to restrict freedom of speech and intimidate rights activists.
"This case is clearly a politically motivated attempt to silence me and also to silence the people I work with," Hall, a migration expert at Thailand's Mahidol University until January and now working in Myanmar, told Thomson Reuters Foundation.
Thailand has 1.5 to 2.5 million Burmese migrant workers, who rights groups say often endure backbreaking hours in agriculture, fishing and construction, and suffer abuse and discrimination.
Natural Fruit – owned and operated by the brother of Democrat Party Secretary General Chalermchai Sri-On – says the accusations of child labour, unsafe working conditions and unlawfully low wages are false and have caused significant loss of reputation to the company.
It filed civil and criminal defamation cases against Hall – but not against the NGO Finnwatch or four other co-authors of the report – and is seeking 300 million baht ($10 million) in compensation.
It is also using Thailand's controversial Computer Crimes Act, saying Hall disseminated the defamatory statements electronically.
Natural Fruit lawyer Somsak Torugsa said the company is focusing on Hall – and not Finnwatch and the other researchers – because he held a press conference on his findings in Bangkok.
"Doing research is good, but it has to be based on fact. The prosecution is fighting what Andy Hall said because it is not true," Somsak said. "The plaintiff said they didn't do anything illegal like Hall said."
Finnwatch called the lawsuits "unfounded" and is standing by Hall and their findings.
"It was a methodologically sound report," Hall said. "We have recordings of all the interviews, documents, wage slips, and worker ID cards."
'LAWS SERVE THE POWERFUL'
Politicians and corporations have long used defamation to squelch criticism of misconduct, abuse and corruption, said Sunai Phasuk, senior researcher on Thailand for Human Rights Watch.
Some cases are so absurd that "victims of torture are being sued by the alleged perpetrators of abuse", said Sunai, referring to the case of Suderueman Malae.
Suderueman had testified under oath that he and others had been tortured in police custody. Police Major General Chakthip Chaijinda sued Suderueman, and in 2011, a court sentenced Suderueman to two years in prison for making a false statement to authorities.
"Regardless of who is in power, there is no interest in amending the law because it serves the interests of the powerful in politics and in the business community," Sunai said.
Thai courts used to rule overwhelmingly in favour of the powerful plaintiffs, but that is changing, Sunai said, pointing to a case against an energy activist that was dismissed.
Still, Hall's case could discourage other activists from exposing wrongdoings by employers, a Thai labour union said.
"If that happens, that would be very sad because migrant workers will face problems but won't have anyone championing their cause," said Sawit Kaewvarn, secretary-general of Thailand's State Enterprises Workers' Relations Confederation.
'DECRIMINALISE DEFAMATION'
The laws in Thailand need to be amended, and defamation should be decriminalised, said media rights activist Supinya Klangnarong.
"If someone suffers damage from a speech, there should be other mechanisms to correct that information first rather than jumping to sue," said Supinya.
She said she knew well how rich the and powerful can use laws to intimidate, after her own legal troubles with a corporate titan – exiled former Prime Minister Thaksin Shinawatra.
When Supinya criticised Thaksin and his family's telecommunications firm Shin Corporation in 2003, the company struck back with a defamation case and demanded 400 million baht ($139 million) in compensation. The case was thrown out three years later.
Others have not been so lucky. In 2009, an American journalist fled Thailand after an official sued her over an article accusing him of plagiarising for his doctoral dissertation. Chulalongkorn University in Bangkok revoked his doctorate three years later after an investigation.
As for Hall, his next hearing is set for May 7, and he is digging in his heels to fight.
"For whatever reason, I'm in this position now and I have to be a role model and stand up for the migrant workers because they're scared," he said.
Burmese workers are "one of the most exploited workforces in the world", according to Hall, who said many flee poverty at home only to face extortion, physical abuse and bonded labour.
"I have the opportunities, money, a good job, passport and freedom. I can easily escape, but the people for whom I worked for almost a decade can't do that. So how can I just run away from the case?"